What Is MASA?
The Multi-Factor Authentication Security Assessment (MASA) is a free tool that helps you determine if your organization's current multi-factor authentication (MFA) practices have vulnerabilities to cybersecurity attacks. Using this tool will increase your organization's awareness of potential attack vectors and the best practices for establishing which forms of multi-factor authentication work best for your organization's security.
This assessment will take about five minutes to complete.
Jump to:
How Does MASA Work?
Get Started
Analyzing Your Results
Frequently Asked Questions

How Does MASA Work?
The MASA tool begins with a general question about the current type or types of authentication methods that are used by your organization. The assessment then builds upon your previous answers to create a custom experience that provides a better understanding of different types of authentication solutions.
At the end of the assessment, you'll receive your results in a customized PDF report. The PDF report will include detailed explanations of the vulnerabilities in your organization's multi-factor authentication (MFA) practices.
Get Started
To get started, follow the steps bellow:
1. Sign up for the assessment by filling out the form on this page. Be sure to enter a valid email address in order to receive your high-level summary and your custom PDF report at the end of the assessment.
2. Once you've filled out the form you'll receive an email with a link to take your assessment. Click the link when you're ready to begin.
3. Answer each question about your MFA solution. Click Next to move onto the next question. If you would like to go back and change any of your answers, click Previous.

4. Once you're finished, click Submit Answers.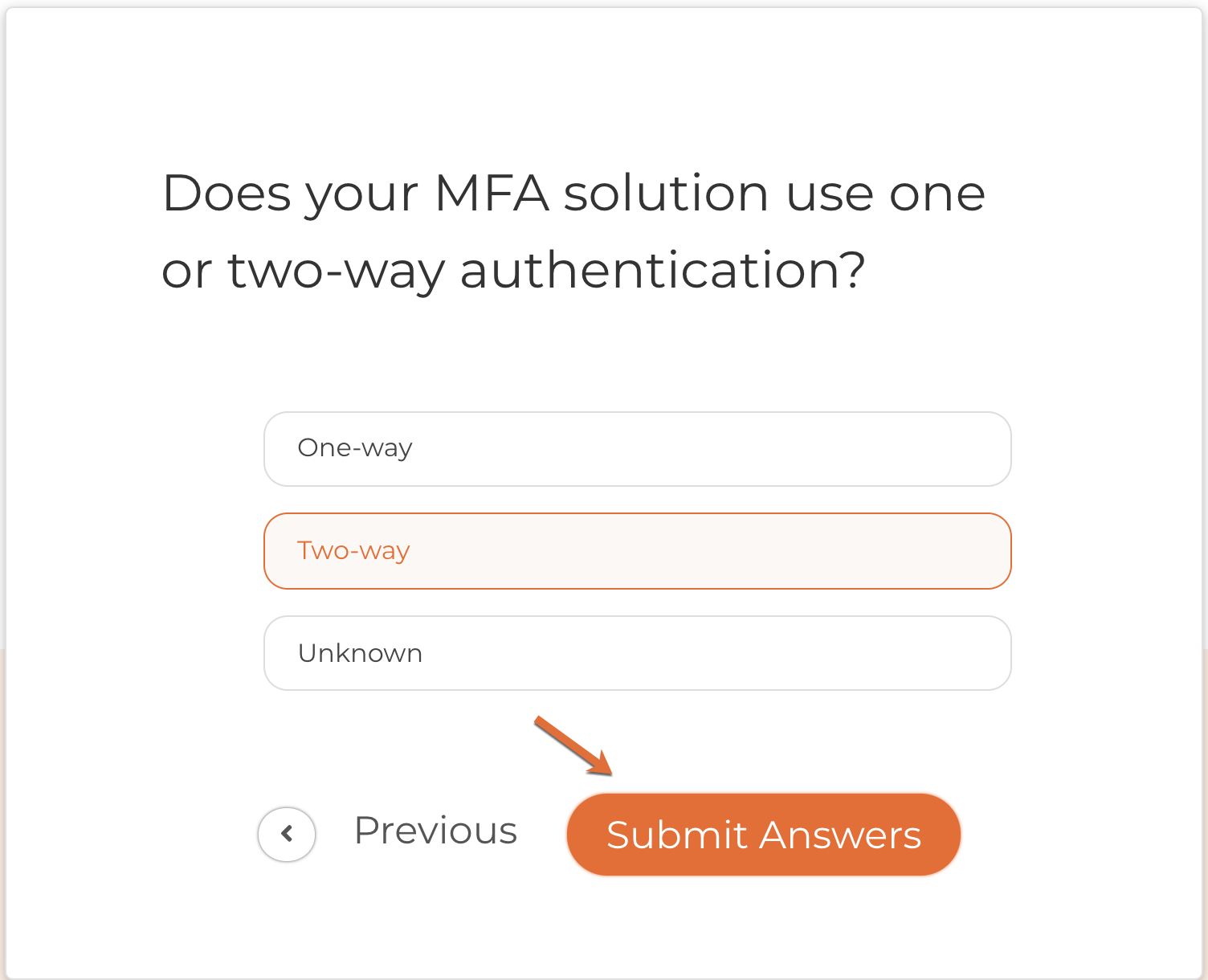 5. Then, you'll be taken to the Results page, where you'll receive a brief overview of the potential risks associated with your MFA solution.
6. If you would like to retake the assessment, click Start Over.

7. From the Results page, click the View Full Report button to download a PDF file with your complete report.
For more information about this report, see the Analysing Your Results section below.

Analyzing Your Results
After you've completed your assessment, the Results page shows you an overview of the answers you entered during the assessment. It also shows a short summary of your MFA solution and the vulnerabilities associated with it. If there is a best practice associated with your MFA solution, you will also see this information on this page. For example, see the screenshot below:

You will also receive an email with an informative infographic. This infographic explains the possible attack vectors that are present with your current MFA solution and provides the best practices for protecting your organization.

From your infographic, you'll be able to view two versions of your custom report. The Full Detailed Report shows you a highly customized and detailed report that provides explanations about MFA vulnerabilities. It also discusses the best practices to consider when deciding which MFA practice works best for your organization. If you would like to go back and read your assessment result summary, click the Summary Report Overview button in the infographic.
Frequently Asked Questions
Question: Is this tool only available for admins to use?

Answer: Yes. This tool is designed for admins that are familiar with their organization's multi-factor authentication solution.

Question: What happens to the information that I enter into the assessment?

Answer: We do not store any sensitive information on our servers. The assessment will only use the responses to build a customized experience for each user.

Question: I completed the assessment but I didn't receive a PDF report. What should I do?

Answer: Check your Spam or Junk folder. Contact our support team if you are still experiencing an issue with receiving your results.

Question: Can I move back and forth between the questions?

Answer: Yes! You are able to move to a previous question if you would like to change your answer.

Question: Can I skip questions that I don't know the answer to?

Answer: No. You cannot skip questions in the assessment. If you are unsure about an answer, you can use the Unknown option and go back to that question once you are able to answer.

Question: Some of my answers didn't generate a summary. Is that normal?

Answer: Yes. This occurs when there is not enough information about your selection for the assessment to generate a summary or provide best practices.

Question: Some of the questions are taking a while to load. Is that normal?

Answer: Yes. This behavior is expected because the tool is building a customized experience based on your answers.